Michael: I just love coding and like to pass on that joy when I can

03 Feb 2020 Miha Fabjan
Meet Michael Kohlmann, a software developer and our new SmartNinja coding instructor at SmartNinja Milwaukee. Learn more about him in this interview.
Hey, please tell us who you are and what do you do :)
Hi, my name is Michael Kohlmann. I am a software developer for a company in the "Leisure Travel" industry. We have created a platform that a lot of major airlines and travel companies use for selling vacation packages.
We are the largest vacation-supplier in the world... that you've never heard of! 😀 Our technologies power their sites, but we give our customers the spot-light, put their logos on our sites, and make them look good.
How does your usual day look like?
My day-to-day can vary quite a bit. Most days I work as a back-end developer, creating new features in SQL and C#.NET. Some days I work on upgrading our infrastructure, transitioning code from an old COBOL mainframe to newer Microsoft technologies.
I spend some time tracking down bugs and data errors. Occasionally, I'll dabble in the front-end doing ASP or pure HTML and Javascript.
What did you want to become when you were a kid?
Good question, that has really changed over the years. When I was really young, I wanted to make video games (but who didn't !?). Around middle school, I wanted to be a marine-biologist and SCUBA dive with dolphins.
At the start of high-school, I wanted to become a mechanical engineer, because I heard there was good money in engineering fields, and careers were plentiful (it seemed like a safe bet for my future).
Finally, I settled into robotics in college, because it was a good mixture of mechanical engineering and software engineering.
What achievement or project are you most proud of?
I guess if I had to choose something, it would be some of my previous projects from my robotics days.
For 15 years I worked in industrial robotics, designing, building, and installing entire assembly lines for factories. There is nothing like seeing a million dollar assembly line, running at full speed, for the first time, that you helped design and build.
What's the craziest/funniest thing that has happened to you?
One time, while at a charity auction, I bid on one of the prizes to help boost the donation to the charity. I didn't have a lot of money at the time, and I didn't expect to win, but I just wanted to help boost a low bid, to get the charity a little more money.
I completely expected that someone would outbid me - almost hoped someone would outbid me - because I was fresh out of college and didn't have much money to spare. But in the end, I won it! 😀 It was a chance to throw the first pitch at a major-league baseball game (Go Brew-Crew!). It was a really cool experience!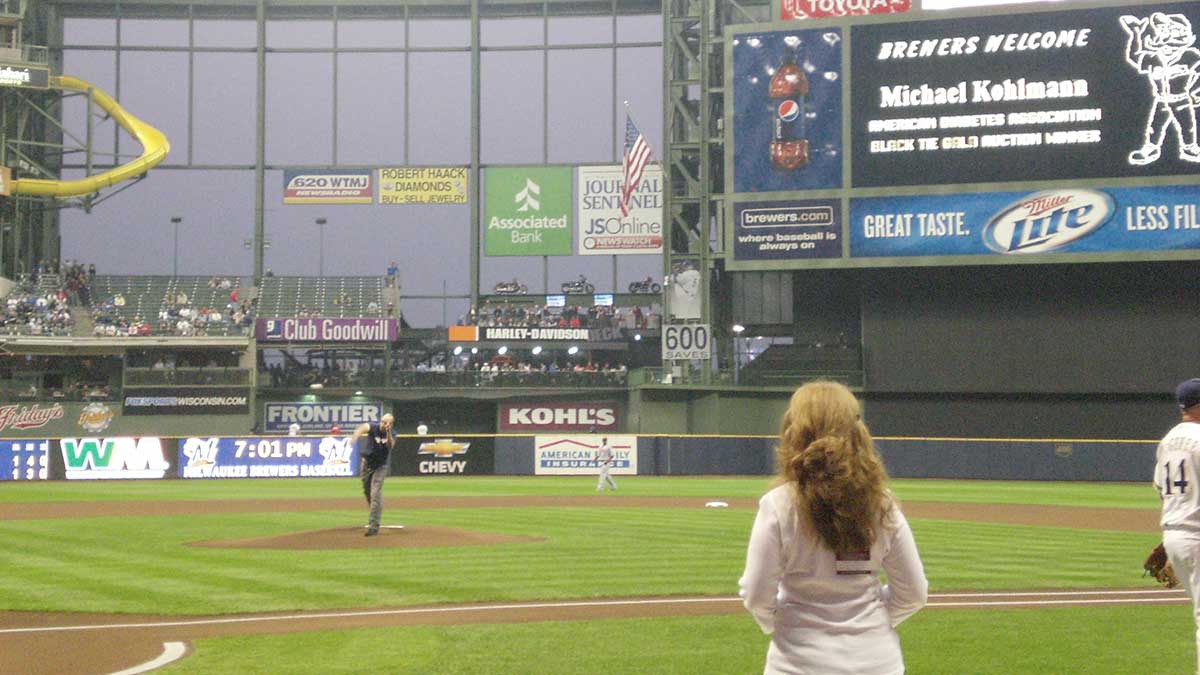 Do you have any hobbies?
Between work and family, I don't have a lot of free time… But when I do get a few hours, you can usually find me doing some 3D-printing or some home-improvement project around the house. Sometimes a hobby coding projects in Python.
I'm currently working on an IOT garage door opener to control it from my Alexa. Besides that, I like to read a book or watch some cheap Sci-Fi show on Netflix.
Do you have any personal principles that you try to live by? What are they?
My three big ones are Integrity, Perseverance, and Patience.
To "Do what I Say, and Say what I Do", because I want to be able to trust in people, and I want people to be able to trust in me.

Because you can accomplish a lot more with time and effort, than raw intelligence or strength. You don't have to be the smartest, or the strongest, or the bravest, or the richest. You don't have to be perfect. You don't have to be #1. But if you keep trying and keep learning and keep growing, you WILL be better you are today. And tomorrow you will be better than that, and the next day, and eventually you will reach your goal.

And finally, Patience. Patience with others. Patience with myself. We are all human and we all have some sort of struggle, problem, flaw… No one is perfect, and we can all have a bad day. If we can see a little bit of Humanity in everyone, I think we can all relate to each other much better. Less hatred and anger, and more empathy, understanding, and compassion.
You're a SmartNinja coding instructor. What is your motivation for teaching?
My motivation is two-fold. One, I just love coding and like to pass on that joy when I can. Two, in Milwaukee we have a lot of issues with poverty, and jobless-ness. And yet, we have all these openings for programmers. Like... Great paying jobs are right there, waiting to be grabbed up, but we don't have the skills-pipeline to fill them.
I hope to give people opportunities to improve themselves, and improve our city, and build out our local tech industries.
Do you have any advice for people who'd like to start learning how to code and perhaps become professional programmers someday?
Honestly, the number one thing I can recommend is persistence and patience. Some people call it "Grit". These are useful skills throughout your career, but ESPECIALLY for beginners.
<pep-talk> Coding can be tough. It can be frustrating sometimes. Even the best of us get stuck on a really tough problem. But no matter how crazy it seems, code follows logic and reason. It's not magic, it only does what you coded it to do. Somewhere in that code, there is a reason it's misbehaving, so keep at it! You will find it eventually! You WILL get it, and don't let some temporary set-back stop you! You got this! </pep-talk> 😀
Where do you see yourself in 10 years? :)
Hopefully still in Milwaukee, with a bustling tech industry that rivals the coasts!
Otherwise, Mobile Robotics and General-AI are my two big passions, so maybe I can kick-start something here in Milwaukee surrounding that. :)
instructor
interview